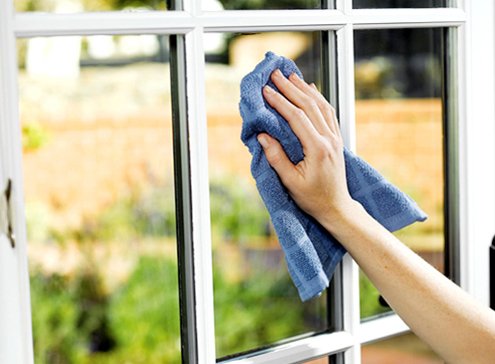 If you're like most people, window cleaning isn't a task you're itching to do. If you're one of the few who likes to "DIY", here's what you need to know before you get started.
Window Cleaning Supplies You'll Need
For a basic window cleaning job, you'll need a high-quality squeegee, a good-sized sponge, a microfiber (or other lint free) cloth, a chamois cloth, a ladder and extension tools if you're dealing with high windows, and a cleaning solution of some sort. Vinegar and water (50/50) is a good solution, or you can buy a ready-made product. With window glass is really grimy, prewash it with soapy water.
Window Frames
Clean dirty window frames before you clean the windows. Vacuum the aluminum window frame and door runners and polish them up using a silicone car polish.  You can also use the polish in frame channels to help the windows slide easily. Wash vinyl or painted frames with a warm, damp sponge and a bit of detergent. Follow by rinsing with clean, warm water and towel dry.
Best Cleaning Technique
Clean the windows from the top to bottom using a lightly dampened sponge to apply the window cleaning solution. Next, wipe across the window using the squeegee blade (dampened), followed by rinsing the windows using clean water and a chamois. Wipe away remaining moisture with the dry microfiber cloth.
Clean Windows on a Cloudy Day
If you want streak free windows, clean them on a cloudy day or when they're in the shade. Why? Because direct sunlight will cause streaking.  Sunlight can also cause the cleaning solution evaporate before you finish cleaning.
Divide the Job Up
If your house has a lot of windows, divide up the window cleaning job instead of attempting to clean them all in one day.
Special windows
It's important to clean stained glass and other special windows carefully.  Clean these windows (stained glass, beveled or small accent windows) gently with a damp sponge and wipe clean with a damp chamois, drying with a clean cloth
Skylights and High Windows
When it comes to cleaning skylights and high windows, it makes more sense to hire professional CT window cleaners. While there are special extensions tools you can use, the risks of injury are just too high to attempt to "DIY" in these cases
A Word of Caution about Window Cleaning
You can easily stain some windows if you are using the wrong cleaner. For example, window cleaning products that contain ammonia can cause film or streaks on windows. It's also important to note that if you don't know what you're doing; window cleaning is a safety hazard that you are better off avoiding.
Unless you simply prefer to do household tasks like cleaning windows yourself, keep in mind that professional window cleaning will always be more effective than doing it yourself. Not only can professionals find problems you may not notice, they have the skills to ensure the job is done right, risk free. It's also obvious to most home and business owners that professional window cleaning boosts the aesthetic of the property.