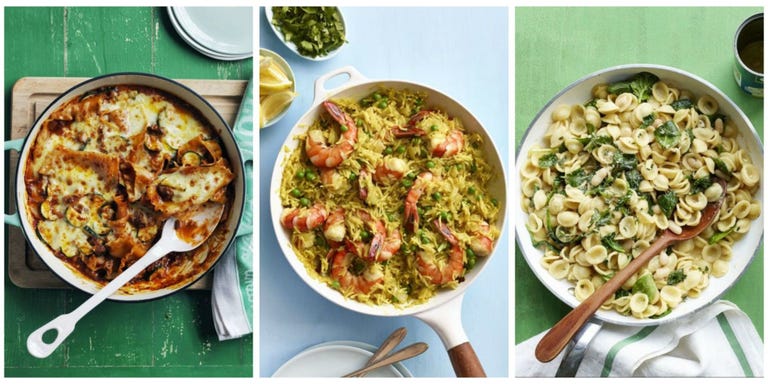 I don't like cookware sets. I think they make you think that you get a great deal while in fact you're getting a lot of pans and pots that you don't need. This unnecessary cookware will clutter your cabinets. There is 2 tiers cookware that beginner chefs don't need at all. The first tier cookware is enough for most people as you can cook almost everything in them. If you're building a kitchen and thinking about cookware, I recommend getting the 1st tier first. You can always get other pieces later, if you ever need them.
The difference between coating and cladding
Sometimes you can see a sign on a pan package that says "Hard-coat anodized", which means soft aluminum was changed to hard surface. It doesn't mean the surface is nonstick and food can stick to the pan without oil.
Cladding means that several layers of metal were fused together to create a cookware surface. Outer and inner layers can be stainless steel and inner layers can be copper, aluminum or other magnetic material. Clad means another material was added to a stainless steel pan to transfer the heat faster. When you understand cookware terminology, you can make an informed choice.
Frying Pan
Frying pans are the most popular cooking vessel that you will probably use the most. You can make everything from quick fried eggs to fancy pasta sauce to delicious burgers. The most common types of frying pans are stainless steel, which is your best kitchen friend, nonstick, which is perfect for cooking delicate meat or veggies, and cast iron, which require a bit of oil but can handle everything from a juicy steal to huge frittata.
Wok
When you've got the frying pan, wok is very useful cookware to add, especially if you like stir-frying or have a big family. Woks are usually made of carbon steel since they heat up quicker than other pans. Works also cook everything you put in there much faster. Even if you haven't used woks before, they're really easy to work with and a little bit creativity will help you turn your regular wok into an amazing smoker.
Stockpot
Even though stockpots should be of good quality, they don't have to be as fancy as other cookware. Even though it should be sturdy, you will only use to blanch or steam vegetables or boil water for pasta and sauces, so you should be able to lift the stockpot that is full of water. Anodized aluminum is always a great choice, and if you don't need to make large quantities of stock and soup, choose medium size stock pot. Sometimes it's easier to get to pots and use them at the same time than handle the big one. If you only boil water for pasta, you can get the cheapest on the market.
If you choose anodized aluminum, it will cook everything just well without costing like stainless steel. The handles of the stockpot should be big enough to grasp. If a colander isn't included in the package, you should add is separately. The insert is unnecessary unless you need to lift heavy pot with vegetables or pasta.
Sauté Pan
For sautéing and searing meats, chicken and vegetables choose a high quality sauté pan. This pan can be your most versatile. You can sear everything from meat to veggies and make quick sauces with delicious dipping. You can cook a meal in only one pan. The three-quart pan is perfect to make homemade sauces and risotto, or deep-fry something. If you don't have a wok, you can use it for stir-frying, even though it will take more time. And here is the recipe of delicious Sloppy Joes that you can make on your sauté pan.
With this pan, the base should be very thick. Cheaper options often have a thin base that buckles, making it almost impossible to cook evenly. Stainless-steel good-quality pans have an inner layer of copper or hardened aluminum to increase steel conductivity. Handles should be secured with noncorrosive rivets, make sure they are heatproof. Wood, stainless-steel, and plastic handles stay cool and completely safe, but only cast iron and steel are ovenproof (plastic burns and wood chars).
A pan with a steel handle is usually the best option because you can finish cooking in the oven. Of course, you should always use mitts when removing the pan from an oven. Lids should tightly fit because they keep the moisture inside. A secure knob is recommended for faster cooking.
Saucepan
A two-quart pan is the best cookware for making rice and sauces, or for reheating pasta and soups. A pan made of copper cooks everything much faster, not to mention that a quality saucepan will look inviting and motivating hanging from a rack in a kitchen. Copper is responsive to temperatures, so it heats up and cools down very quickly.
This means that you can make delicious sauces, melt sugar and cook candies like a chef. Cast iron or bronze handle is usually the best while rivets should be made of stainless steel. Polishing copper pots is unnecessary unless you worry about the aesthetics because it doesn't affect the performance. Copper is usually paired with tin or stainless steel (expect preserves pans for beating up egg whites). If you want to polish your saucepan, you can use any affordable store-bought polish.
High-quality knife set and sharpener
Your cooking experience can be enhanced by high-quality knife set. A sharp knife cuts food much faster and require less force, which means delicate ingredients like herbs can retain flavor and look during cooking. Prep time is the real difference between good and bad knives. Better knives let you spend less time cutting your food. Not all knives are the same, so make sure you always read reviews before you buying a set. The good one will have you covered no matter what you're cutting.
Tips for shopping for stainless steel cookware
Stainless steel is very stable, you shouldn't worry about leaching. A tip for shoppers is to take a small magnet and put it on a pan. If it sticks, the quality is high. If the magnet doesn't stick, cookware contains more aluminum than steel.