Custom Controls, which specializes in installing home automation, audio and lighting systems, completed work at a townhouse at Primrose Hill. The company installed a Crestron Multi-Room Audio Video system, which created video zones in the property, from where one can view centralized Virgin Media Tivo and Apple TV. Audio zones of the house will have access to the Autonomic MMS Digital Media server, offering easy use of options like Spotify, iTunes Collection, as well as internet radio. Custom Controls, which deals in Crestron Installation London, created a system, which can help connecting multiple rooms of the big home using just one button.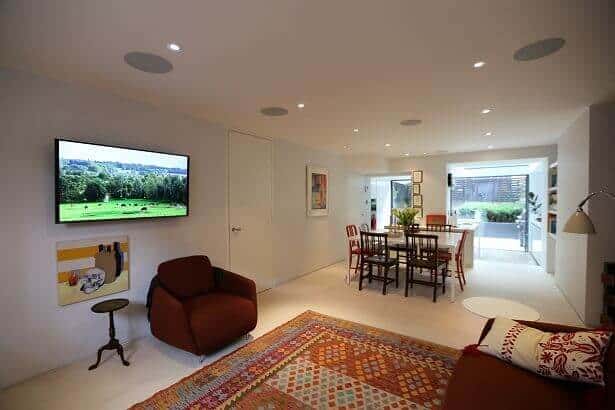 Customizing for the aesthetics
Custom Controls used retractable projector screen for the living area, which drops easily when required, ensuring that the aesthetics remain intact. There's also a SIM2 projector on a customized shelving unit to match the requirements. For the audio, the company installed Acoustic in-ceiling speakers with Denon AVR, to offer incredible TV experience, coupled with a Blu-Ray player. The Crestron app can be controlled from the iPad, including lighting control. Origin Acoustic speakers offer low-end bass, which helps in skipping the subwoofer altogether.
Adding to the connectivity
Realizing the dependability on Wi-Fi, Custom Controls used Pakedge Wireless LAN controller for the house with easy access points. Pakedge controller controls the network and ensures assured connectivity for all corners. Both the wired and wireless systems use the ultrafast internet connection of the client to ensure connectivity for numerous devices at the same time, with assured video streaming. As for the intercom, LCD intercom panel has been installed, which allows two-side communication with the front door that uses a video entry system.
Quick overview
Custom Controls ensured that their client get the best advantage of investing in Crestron Multi-Room Audio Video, with four video and eight audio zones. There are also two surround sound zones, as well, with Origin Acoustics in-ceiling speakers. The Digital Music Server furthermore adds to the versatility, allowing easy access to internet radio. For the client, it was surprising to tune into UK radio stations and even those from Australia. The projector-based home cinema in the living room is worth applauding, while the Lutron lighting integration takes the automation to the next level. Connectivity is further enhanced with the BPT Intercom System.
No wonder, the project remains a matter of contentment for the team of Custom Controls, which continues to create raves in installing custom audio-video-lighting systems.