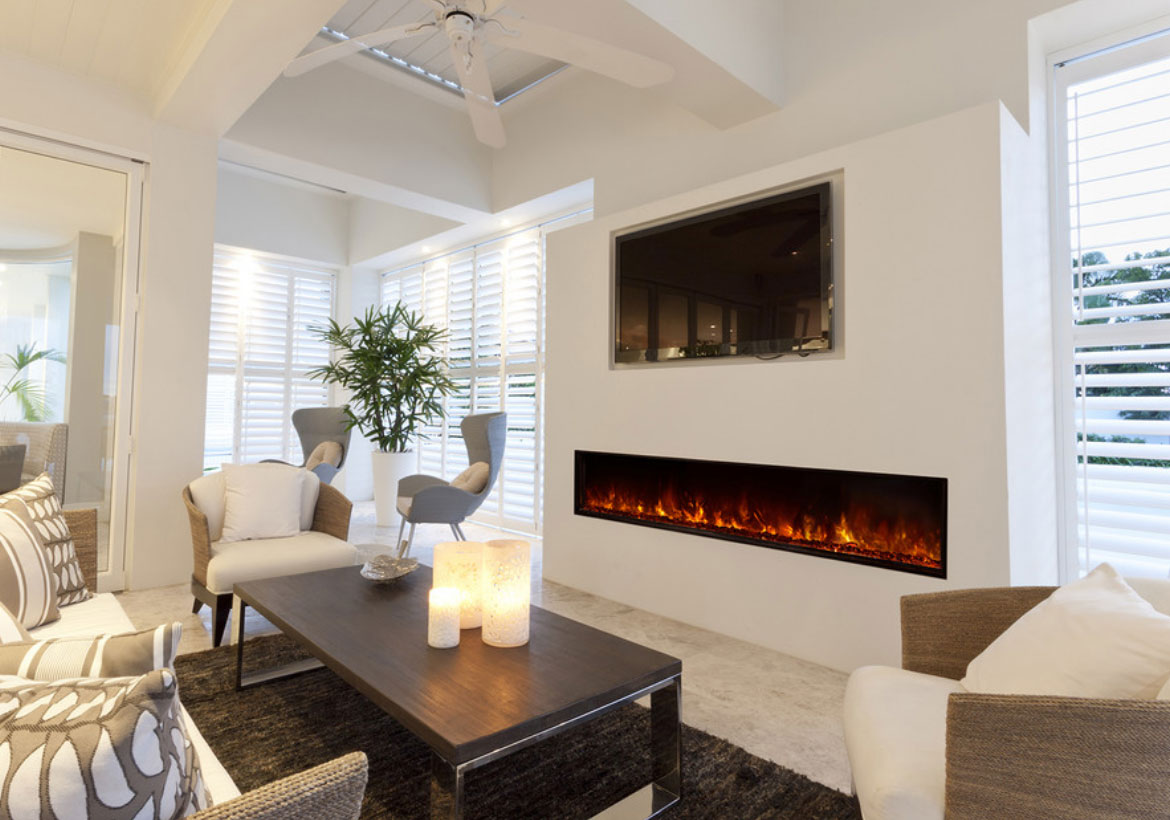 Modern fireplaces in New York City are more energy-efficient than the large, open-masonry, wood-burning versions our grandparents lived with. Since, Mayor DeBlasio banned new wood-burning fireplaces in 2014, homeowners looking for stove and fireplace options still have a wide array of choices, including gas and other biofuels
As the hot, muggy summer drags on, many people dream of cooler days ahead spent snuggling under a soft, wool throw near a crackling fire. If you're thinking about adding a fireplace this year, you may be wondering which style is best for your home.
Here are several things to consider when comparing modern fireplaces.
Innovative gas-powered and biofuel fireplace designs offer all the warmth and charm of a traditional fire, without the sooty mess and frequent trips to the wood pile.
Engineered for safety, both alcohol and gas-powered fireplaces are uniquely built to keep the sides and exposed surfaces cool to the touch. Parents with small children may prefer modern fireplaces in New York Cityapartments with sealed glass fronts. This eliminates the need for child gates that detract from the beautiful appearance without compromising safety for the little ones.
Alcohol and ethanol both require regular supply replenishment, whereas gas is directly piped into the appliance. Liquid alcohol is less expensive than gel forms; however, refilling the vessel demands extreme caution since an "invisible flame" is possible, and users must follow reloading instructions precisely to reduce risks.
Gas-powered fireplaces burn clean, provide a real flame and cost less to operate than solid-fuel and electric alternatives. Plus, power outages that render electric home heating sources inoperable don't affect gas appliances, a real benefit if a harsh winter storm blows in, knocking out power lines.
Bio-fuel pellets provide a solution that reduces less pollution than wood. Like ethanol and alcohol alternatives, pellet fireplaces require supply replenishment, and when stored, pellets may produce carbon monoxide gas, so monitoring is essential in the storage area. One advantage of pellets compared to traditional wood, is that this fuel produces exceptional heat without voluminous ash and soot.
Unlike heating appliances of yesteryear, many modern fireplaces in New York City neighborhoods today become stunning focal points in the interior design scheme. Innovative designs allow homeowners to create relaxing indoor spaces that invite lounging and intimate conversation.
Choosing an ideal fireplace for your home demands thoughtful consideration. Before deciding whether a gas, bio-fuel or electric solution offers the best fit, take time to imagine how installing a modern fireplace will enhance your daily life. Then, explore the marvelous features available today that deliver convenience, comfort, safety and pure pleasure for you and your family.