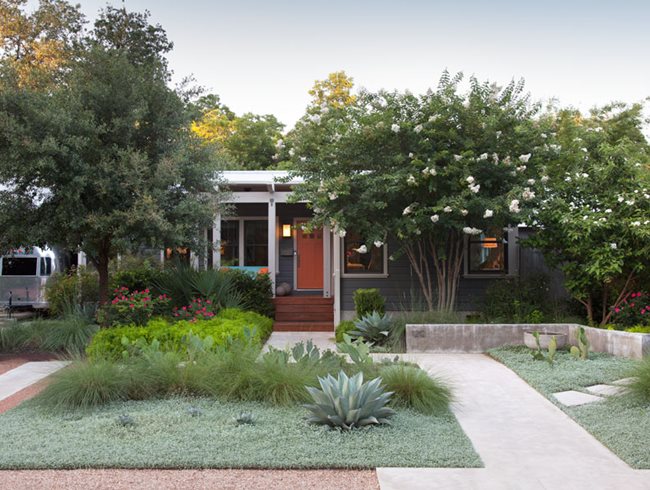 From all of us here at LUTEC lighting, we wish you a very happy new year! We understand the 'new year, new me' need to freshen up your home or spruce up your garden ready for spring so we thought we'd help you get started on that home improvements list. Here are the top garden landscaping trends set to be big in 2019.
Keeping the lawn in check
Whilst mowing the lawn might be an obvious landscaping must-do, the end of 2018 marked an increase in going that one step further! Keep your lawn in check and make the most of it by adding paving slabs and walkways into the lawn to add a little texture – especially if you have a large lawn!
Urban lounges
Urban lounges are becoming increasingly popular – and not just in cities! Urban lounges bring a sleek and modern industrial look to your garden with grey or light-coloured paving slabs, dark wood and concrete. Block off specific areas for cooking or outside dining or create a concrete oasis with water features and plush seating!
Planting and cobble arrangements
Most people plant flowers and foliage in their garden as a way to mark borders or create some colour in their landscape but 2019 will see an increase in combining plants and cobbles and pavements to create a more impressive bigger picture. For example, circling a spot in the garden with cobbles and placing plants inside has been particularly popular.
Boundary seating
It's not enough anymore to just add a table and chair set to your garden. In 2019, people want to make a real event of their garden and create a landscape to be proud of and a place to escape the chaos of modern life. That's what makes boundary setting so important. With paving, decking or other different textures, deliberately mark out different spaces of your garden for BBQing, sitting, sunbathing or family activities. This will make you the ultimate host during the spring and summer months!
Night time glow
What's the point in putting all this effort into your garden if you can only see it during the daylight hours? It is rare these days to see a garden without some form of illumination! Opt for stick lighting from the ground to illuminate the pathways or walkways we were speaking off, such as the LUTEC Explorer Spotlight. Place traditional lantern lights such as the in places that need more light such as the LUTEC Unite Post Light where you socialise. It also helps to have some portable lighting on hand for extra lighting where you need it most when you're spending time in the garden. The Dragonfly Solar Lamp is a common favourite!
Once you have achieved the perfect garden landscape, we are ready and waiting to light it up and help show it off! Find LUTEC lighting at all good hardware stores such as Illumination, Homebase, TLC Direct and Wickes!