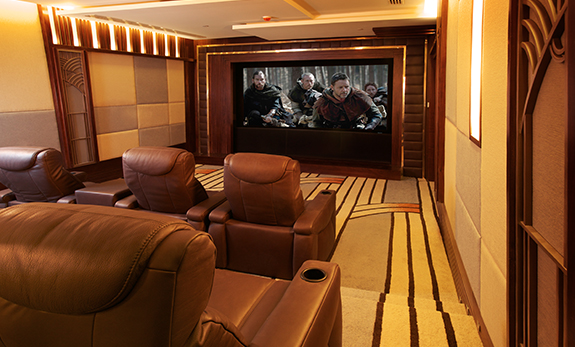 Custom Controls, which specializes in installation of audio, video and automated systems, complete a project in Dubai, where they installed a home cinema with expected care for the aesthetics. This is the first time they worked with Crestron Dubai, and they managed to add a 3.5m Acoustically Transparent Projector Screen with SIM2 Lumis 3D Projector and Artcoustic 7.2 Surround Sound. With fabric walls and the star effect on the ceiling, this was a real project that used the full Creston control system.
Incredible setup
It's still rare for homes to have a cinema corner, and with the choice to get 3D images at 1080p, this is a home that's redefined by the standards that Custom Controls has created for itself. The audio requirements of the giant room have been managed with an Artcoustic Spitfire cinema package. With four Artcoustic Spitfire Subwoofers, the bass produced by the system was worth vouching for. The SIM2 Lumis 3DS projector offers the videos, and Custom Controls ensured that the room gets the best acoustic setup, with a ceiling that just adds to the movie experience. The steps have LED lighting, and for the seating, they have used Cineak Vedette chairs with Onyx tables.
Final inclusions
The system also includes Crestron TPS-6X wireless remote control, which allows one to have complete control on the room, right from the cooling to lighting and everything else. This is contemporary automation at best. The Blu-Ray and DVD film library is accessible via the Kaleidescape Server system, and the overall setup also uses feeds from Apple TV. There's also a set of games consoles, mounted on the rack for enjoying gaming on the big screen.
The projects blends the best of technology and automation with essential requirements that people usually associate with cinema rooms, with a hint of luxury as required.